Dr. Powers Biography
Dr. Tyrone Powers
Dr. Tyrone Powers  is an expert consultant to several legal teams on criminal law and civil court procedures concerning civil rights violations; legal, public and agency policies; and police ethics and practices.
A Sociologist in the field of Justice, Dr. Powers finished his Doctoral Dissertation at American University, "The Decline of Black Institutions and the Rise of Violent Crime in Urban Black America - Post Integration (1998)."  At American University, he earned a dual Ph.D. in Sociology and Justice. He was a Maryland State Trooper for four years and a Special Agent with the Federal Bureau of Investigation for ten.  Dr. Powers is also an historian and an inexhaustible reader - recounting the historical and legal events impacting the progression of American culture in law, legal policy education and social reform.  His lectures are received around the world - inciting listeners to research history, and gain a thorough and accurate knowledge about the law.  His audiences include criminal justice professionals and students as far-reaching in diversity as Yale University to Montego Bay, Jamaica.
As a Special Agent with the FBI, Dr. Powers was an Intelligence Analyst in the Counter-terrorism Unit.  For the last ten years, he is recognized as an expert on terrorism and intelligence, having advised Criminal Justice agencies internationally.  Since the tragic events of 911, and the continued national and international concerns about homeland security and terrorism, countless agencies and media eagerly seek his insight, expertise, and advice on the analysis and prognosis of events as they occur around the world. He consults with scores of congressional and senatorial officials, religious, as well as world leaders.  His lecture topics include issues on links between education and the reduction of crime; Penology; Urban America, Crime and Law Enforcement; Racial Profiling; Terrorism/Counterterrorism; Intelligence/Counter-Intelligence; Police Training; Racism; Organized Crime; Leadership and countless other areas.
He has been featured on ABC's Prime Time Live, The Bottom Line TV Show, Black Entertainment Television News, CNN, WMAR, Channel 2 Evening News, Outside Politics, Crisis Magazine, Black Collegian Magazine, and numerous radio talk shows, universities, and government and corporate agencies. 
Most recently, Dr. Powers initiated and continues to lead one of the most challenging and influential educational movements in the City of Baltimore - The Children 1st Movement. In January of 2003, Dr. Powers motivated thousands of Baltimore citizens to protest against the lead contaminated water systems in schools and to actively engage in the disparate under funding by the state to Baltimore City schools, and the mismanagement of money by school administrators.
He currently hosts a weekly talk show, "THE POWERS REPORT", which airs on WOLB 1010 AM and he is completing his new book entitled "Black Ice".
Join this Group Now!
Advertisement
 Eyes to My Soul
The Rise or Decline of A Black FBI Agent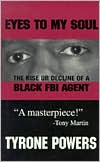 Synopsis
Unjustified FBI harassment of Black mayors Coleman Young (Detroit), Harold Washington (Chicago) and Marion Barry (Washington, DC); white agents urinating on photographs of President Bill Clinton and Vice-President Al Gore; a white agents' fundraiser for white policemen accused of murdering a Black Detroit motorist; agents pasting the picture of an ape over the photo of an African American agent's child; sheet-clad classmates pretending to be Ku Klux Klansmen at the FBI Academy; the mysterious explosion of a "troublesome" Black agent's FBI-issued vehicle -- all of this, too, is the FBI, and former Special Agent Tyrone Powers tells it as only a conscious Black insider could.